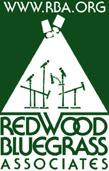 Redwood Bluegrass Associates will present Danny Paisley & The Southern Grass in concert on Saturday, February 20 in Mountain View.
The Northern California Bluegrass Society welcomes all RBA shows.
The new home of the long-running RBA concert series is the Mountain View Masonic Lodge, 890 Church Street, near downtown Mountain View.
The 7:30pm concert will be preceded by an open jam beginning at 5:00pm.