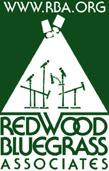 Della Mae will appear in a Redwood Bluegrass Associates concert in Mountain View on Saturday Evening, May 2.
The show at the First Presbyterian Church Of Mountain View will conclude the current season. The monthly series will return in the fall.
All RBA concerts are welcomed by the Northern California Bluegrass Society.
An open jam at the church will begin at 5:00pm. Concert doors will open at 7:00pm for the 7:30pm show.