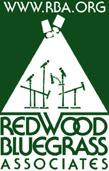 The Kathy Kallick Band will kick off the final Redwood Bluegrass Associates season this Saturday, October 22, 2016.
All RBA programs since 1995 have been welcomed by the Northern California Bluegrass Society. The series has brought bluegrass to the Peninsula & South Bay for 25 years.
The concert will be presented at the Mountain View Masonic Hall, at 890 Church Street near downtown Mountain View.
There is plenty of free parking on the street, in the Hall's lot and in the nearby library parking lot. Concert doors will open at 7:00pm and the concert will begin at 7:30pm.
A (coed) open jam will be hosted by The Handsome Ladies beginning at 5:00pm.