NCBS Brookdale Bluegrass Festival Is Back For March 2009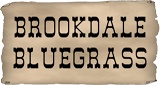 The NCBS Brookdale Bluegrass Festival, a Santa Cruz area institution between 1999 and 2007, will return at its original location March 13-15, 2009. The Brookdale Lodge was sold to new owners, then closed and extensively renovated, necessitating the suspension of the popular indoor event for almost two years. Now bluegrass is finally back in the San Lorenzo Valley!
Eric and Barbra Burman are the hosts of the small, friendly gathering of Santa Cruz, Bay Area, and other California pickers seeking to chase away the wintertime bluegrass blues. There is plenty of time for jam sessions between the stage acts. The new owners have made the old, original "lodge" building available for music in addition to the main performance hall.
The new ownership is ready for jammers — for the first time, different sections of the hotel's rooms will be set aside as late-night jamming or non-jamming zones. All rooms are available at a discount. For more information, contact (Eric Burman) brookdalebluegrass (at) hotmail (dot) com.