RBA 2009-10 Season Ends Saturday With The Kathy Kallick Band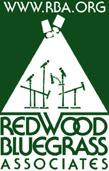 The season-ending concert for Redwood Bluegrass Associates in 2009-2010 will be the Kathy Kallick Band this Saturday, May 1, with sponsorship from the Northern California Bluegrass Society. The schedule:
4:00pm — Jam
5:00pm — Dinner presented by Sam's Barbecue of San Jose.
8:00pm — Concert
This concert series is a key institution in the Northern California bluegrass community. The formal South Bay/Santa Cruz area concert series was launched by the Santa Cruz Bluegrass Society in 1985. In 1990, the series was split in two, with a "large concert" series produced first by Townsend Music, then later by Redwood Bluegrass Associates, and a "small concert" series produced by SCBS. In 1995, the two series were consolidated under the RBA banner with SCBS (now the NCBS) sponsoring all of the concerts and helping out with significant back-office services and other contributions.
The 2010 season is the 21st under RBA/Townsend management, the 26th overall, and the 16th under NCBS sponsorship. Thanks for your support!