Blue Highway Set For November 6 RBA Concert In Mountain View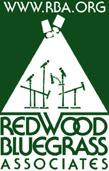 Redwood Bluegrass Associates will present Blue Highway in an Northern California Bluegrass Society-sponsored concert at the First Presbyterian Church of Mountain View on Saturday, November 6 at 8:00pm. An open jam will run 5:00-8:00pm at the church. The monthly RBA series will run through April.
Here is a short film about the band by Craig Havighurst of String Theory Media on YouTube.