Brookdale Bluegrass Bands Ready For December 3-5 Weekend Festival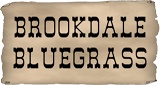 The Winter Brookdale Bluegrass Festival hosted by Eric & Barbra Burman and sponsored by Northern California Bluegrass Society will be held December 3-5, 2010, at the Brookdale Inn & Spa in Brookdale and other venues in the nearby town of Boulder Creek. The twice-a-year "cabin fever" festival has been held in the Santa Cruz Mountains since 1998.
The festival shows will be held in the Main Music Room, the original Brookdale Cabin, and the Lounge of the Brookdale Inn (formerly, the Brookdale Lodge), as well as Scopazzi's Restaurant, the Boulder Creek Brewing Company, and Joe's Bar in downtown Boulder Creek. Jamming will take place throughout the Brookdale all weekend long.
The Brookdale bands are ready to take the stage. Bring your instruments for the jams!