Thanks To Bluegrass On Broadway Bands, Volunteers, Supporters, & Attendees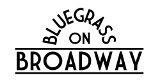 Sunday at the BOB was fun! The film festival featured an enthusiastic audience discussion with Shreveport, LA. filmmakers Winston Hall and Donna Chance, a line-up of fine bluegrass films, and the news that the event may possibly be repeated later this spring in San Jose.
The (new this year) Sunday evening closing concert featured a solo piano performance of ragtime tunes with Mathew Cannon and an early traditional jazz set by the Woodside Road Players, both of Redwood City. The closing act was Burlingame's Healing Stream Bluegrass Band, a group that features gospel bluegrass and Alison Krauss songs. This show was a very enjoyable way to end the BOB festival weekend.
—
The Fourth Annual NCBS Bluegrass On Broadway Festival in Redwood City was a big success. Thanks to all the bands, volunteers, supporters, and attendees who made it happen this weekend.
Your NCBS BOB Festival Committee welcomes comments about this year's new January dates for the festival, and any other ideas you have to share. We can't wait for next year!