NCBS-Sponsored March 12 Redwood Bluegrass Associates Concert To Feature Robin & Linda Williams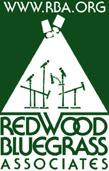 Robin & Linda Williams And Their Fine Group from Virginia will appear in a Redwood Bluegrass Associates concert at the First Presbyterian Church of Mountain View on Saturday Evening, March 12.
An open bluegrass jam will begin at 5:00pm and the concert will follow at 8:00pm. The Northern California Bluegrass Society has sponsored all RBA concerts since 1995.