Frank Solivan & Dirty Kitchen Set For NCBS-Sponsored Concerts In Mountain View, Felton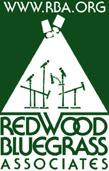 Frank Solivan & Dirty Kitchen (Washington, DC) is headed for Northern California Bluegrass Society-sponsored concerts in Mountain View and Felton at the end of next month.
April 30 — Redwood Bluegrass Associates presents the band on a Saturday evening with opening act Kitchen Help at the First Presbyterian Church of Mountain View. The 8:00pm show will be preceded by the annual RBA Dinner catered by Sam's BBQ, and by an open jam starting at 5:00pm.
May 1 — Don Quixote's International Music Hall hosts the band Sunday evening at 7:00pm in Felton. Mexican food will be served.
—
NCBS E-Mail Update:
NCBS members will soon have a new way to keep up to date on Society news — a new e-mail newsletter is coming in April. To ensure smooth delivery, members should update their e-mail addresses with the (NCBS Membership Chair) ganwyl (at) gmail (dot) com.