Frank Solivan, Kitchen Help To Perform At April 30 RBA Concert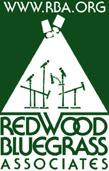 Frank Solivan & Dirty Kitchen from Washington, DC and Redwood City's Kitchen Help band will perform at a NCBS-sponsored Redwood Bluegrass Associates concert on Saturday, April 30. The 8:00pm show will be preceded by the annual RBA Barbecue, catered by Sam's BBQ of San Jose. An open jam will begin at 5:00pm.
Modesto native Frank Solivan and band will also appear in a second area NCBS-sponsored concert the following evening, May 1, at Don Quixote's in Felton.