Historic Franklin Ranch To Host Brown Barn Festival October 7-9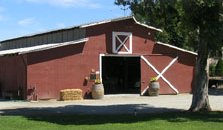 The 6th Annual Jake's Brown Barn Bluegrass Festival will be held October 7-9, 2011 at the historic Franklin Ranch in Gilroy. The festival that was started by the late Jake Quesenberry is now presented by the Quesenberry Family and sponsored by the Northern California Bluegrass Society and Music Medics.
SANTA CLARA COUNTY HISTORICAL SITE
FRANKLIN FAMILY RANCH
BERNARD AND MABEL FRANKLIN MOVED TO THIS
PROPERTY AFTER ITS PURCHASE IN 1895.
THE HOME AT THIS LOCATION HAD BEEN BUILT APPROXIMATELY
20 YEARS PRIOR, FROM MT.MADONNA REDWOOD.
IT HAS BEEN HOME TO FOUR GENERATIONS OF FRANKLINS.
BERNARD HELPED BUILD RUCKER SCHOOL IN 1895.
THIS WAS THE BEGINNING OF THE "RUCKER TOWNSHIP"
WHICH HOSTED A POST OFFICE AND A TRAIN DEPOT.
BERNARD AND MABEL HAD TWO SONS, WILLIAM AND ROBERT,
WHO WORKED WITH THEIR FATHER TO ESTABLISH A PRUNE
GROWING AND DEHYDRATION BUSINESS THAT IS STILL FAMILY RUN.
TODAY, THE BUSINESS IS KNOWN AS GOLDEN VALLEY NUT CO. INC.
MOUNTAIN CHARLIE CHAPTER 1850 RECOGNIZES THE EFFORTS
AND CONTRIBUTIONS TO E CLAMPUS VITUS
BY DOUG FRANKLIN AND HIS FAMILY.

DEDICATED AUGUST 30, 1996
THE FRANKLIN FAMILY
MOUNTAIN CHARLIE CHAPTER 1850
E CLAMPUS VITUS

"RIGHT WRONGS NOBODY"

This plaque is located at The Franklin Ranch, 170 Rucker Avenue, Gilroy, Santa Clara County, CA. The Brown Barn festival was previously held at the San Martin Country Park, 3 miles north of the Franklin Ranch.