NCBS-Sponsored Redwood Bluegrass Associates Concerts Set For Mountain View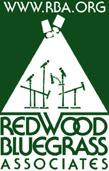 The Northern California Bluegrass Society has sponsored all concerts presented by its sister organization Redwood Bluegrass Associates since 1995. This partnership has produced many fine seasons of great music — but the upcoming fall season may be the most exciting yet. Here is the line-up:
September 24 — Michael Cleveland & Flamekeeper
October 22 — Frank Wakefield Band with Windy Hill
November 12 — The Tuttles With A. J. Lee
December 3 — Peter Rowan Bluegrass Band
All concerts are held at 8:00pm (free open jam at 5:00pm) at the First Presbyterian Church of Mountain View.