SFBOT Benefit Concert Set For January 12 At Cafe Du Nord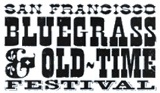 The annual NCBS San Francisco Bluegrass & Old Time Festival Benefit Show will be held at Cafe du Nord in San Francisco on Thursday, January 12, 2012 at 8:00pm. Bands: Buck Wild & The Boss Hossers, Misisipi Mike & The Midnight Gamblers, The Creak and The Juncos, hosted by organizer Shelby Ash.
The 13th Annual SFBOT will come to venues in San Francisco, Alameda, Contra Costa and Marin Counties February 10-19. The NCBS festival is produced by the Northern California Bluegrass Society SFBOT Committee chaired by Tom Lucas.