NCBS Bluegrass On Broadway Enjoys A Successful 5th Anniversary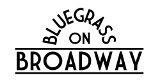 Sunday at the BOB: Our bluegrass documentary filmmakers had a great year, with excellent films from Northern California and around the country screened to an appreciative audience on Sunday afternoon. Our newest festival venue, the Woodside Road United Methodist Church, produced another sparkling bluegrass "plus" show to close out the weekend, with a excellent program of Bluegrass Gospel & African-American Spirituals by the church youth ensemble, the dixieland band MJ's Brass Boppers, and the bluegrass band Healing Stream. Meet you in Redwood City next year!
—
The Northern California Bluegrass Society's Bluegrass On Broadway Festival enjoyed a successful Fifth Anniversary this past weekend in Redwood City. Attendance for all events were the highest ever and the music was excellent.
Thanks to the hardworking BOB volunteer staffers who made it all happen: Elicia Burton, Laura Emerson, Allan French, Brenda Hough, Lois Kellerman, Carl Pagter, Pan Logan, and Debbie Weiner. Michael Hall served as festival director. Thanks to Patrick Weldon, our festival co-founder and co-director emeritus!
Bluegrass On Broadway receives principal financial support for the festival from the City of Redwood City's Civic Cultural Commission, the Redwood City Public Library, One World Montessori School, Wickersham & Murphy, and the Tapestry Church. Additional thanks to the International Bluegrass Music Museum, Little India, Sweet Basil, and the Woodside Road United Methodist Church.