This Weekend: The NCBS SFBOT Comes To San Francisco, North Bay, East Bay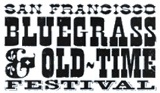 The 13th Annual Northern California Bluegrass Society San Francisco Bluegrass & Old Time Festival comes to San Francisco and the North & East Bay beginning this weekend for a 10-day run.
The festival will be held February 10-19, 2012 in various venues. Complete Festival Schedule
The San Francisco Chronicle has coverage of the country/bluegrass/alt scene in The City, including festival bands.
There are still a few open slots for both bluegrass and old-time bands in the SFBOT Band Contest.