Redwood Bluegrass Associates Brings Red Wine To Mountain View February 18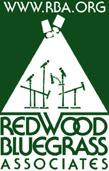 Redwood Bluegrass Associates will present Italy's favorite bluegrass band, Red Wine, in a Northern California Bluegrass Society-sponsored Mountain View concert this Saturday, February 18, 2012 at the First Presbyterian Church (Cuesta at Miramonte).
An open jam begins at 5:00pm and the concert at 8:00pm.
NCBS has sponsored all RBA concerts since 1995.