Redwood Bluegrass Associates Presents Two Duets In Concert March 24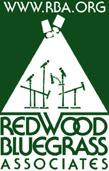 Two duet acts — Chris Stuart & Janet Beazley and Brittany Haas & Lauren Rioux – will appear in a Redwood Bluegrass Associates concert at the First Presbyterian Church of Mountain View on Saturday, March 24, 2012. The RBA season series is sponsored by the Northern California Bluegrass Society.
The 8:00pm concert will be preceded by a 5:00pm open jam.