RBA Jam Precedes Each Saturday Concert In Mountain View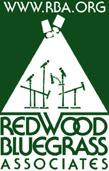 Before every Redwood Bluegrass Associates concert, there is a jam beginning at 5:00pm hosted by Ed Cirimele. The jam session is free and open to everyone. Concert doors open at 7:00pm and the show begins at 8:00pm.
The jams and concerts are held at the First Presbyterian Church Of Mountain View. All RBA events since 1995 have been sponsored by the Northern California Bluegrass Society.
There are two shows remaining on the RBA 2011-2012 season:
March 24 — Chris Stuart & Janet Beazley, Brittany Haas & Lauren Rioux.
April 14 — Loafer's Glory.