Eric Burman's Brookdale Bluegrass Welcomes Us To Summer NCBS Boulder Creek Festival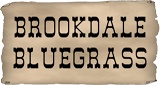 Eric Burman's Brookdale Bluegrass Crew will welcome area bluegrass/old-time lovers to the NCBS Summer Boulder Creek Bluegrass & Old Timey Festival, set for July 13-15, 2012. This is a small, fun, convenient, down-home gathering that has been held several times a year since 1998.
The event will be held in various venues in downtown Boulder Creek, 12 miles north of Santa Cruz on Highway 9. Festival headquarters will be at Scopazzi's Restaurant. The complete line-up and other festival details are on the Official Festival Website. Discount advance tickets will be available shortly.