Jake's Brown Barn Returns October 12-14 — You Can Help Plan On June 2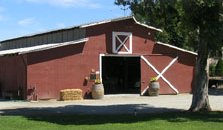 Save The Date: The NCBS Jake's Brown Barn Bluegrass Reunion will be held October 12-14, 2012 in Gilroy.
History: The event was begun by the late Jake Quesenberry as the "Brown Barn Bluegrass Festival." The 7th annual gathering will be presented by the Quesenberry Family and The Music Medics, and sponsored by the Northern California Bluegrass Society.
Volunteer: Everyone is welcome to join in and help with this fun community event! A planning meeting will be held at 11:00am on Saturday, June 2, 2012 at the Franklin Ranch in Gilroy. For more information, contact festival director (Sue Quesenberry) sueq1221 (at) aol (dot) com.