RBA Advance Discount Package Now Available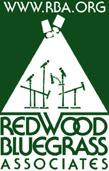 The Redwood Bluegrass Associates concert season begins in October and runs through April. NCBS has sponsored and assisted with this series since 1995.
A special Advance Discount Package covering these six shows is now available for only $99.00 — a great value for your wintertime bluegrass enjoyment:
October 27 – Kathy Kallick Band, November 10 – Foghorn Stringband, December 8 – Peter Rowan Bluegrass Band, January 19 — Audie Blaylock & Redline, March 9 — James Reams & The Barnstormers, April 13 — Dale Ann Bradley Band featuring Steve Gulley.
Another show will be added for February. The Saturday evening concerts are held in Mountain View and are preceded by an open jam session.