The Pleasant Valley Boys Head For Brown Barn, Gilroy On October 12-14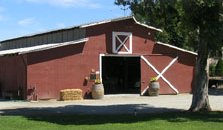 Matt & George & Their Pleasant Valley Boys will head for the 7th Annual Jake's Brown Barn Bluegrass Reunion, set for October 12-14, 2012 at the historic Franklin Ranch in Gilroy.
Some of the band's members performed with the late Jake Quesenberry, founder of the festival, at the first gathering back in 2006.
Discount donations are now being accepted (through September 23).
The last weekend camping festival of the Northern California season is sponsored by the NCBS.