NCBS, Jake's Brown Barn Welcome Bean Creek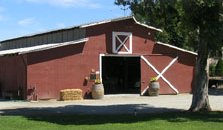 The Northern California Bluegrass Society will welcome Bean Creek (Santa Cruz) to the 7th Annual Jake's Brown Barn Bluegrass Reunion on October 12-14, 2012.
The festival was founded by the late Jake Quesenberry and is now presented by the Quesenberry Family and The Music Medics.
The event is sponsored by the NCBS and by Redwood Bluegrass Associates.
The last weekend camping bluegrass festival in Northern California for 2012 will be held at the historic Franklin Ranch in northern Gilroy. Advance Donations will be accepted through September 23.