Dark Hollow Set For October 12-14 Jake's Brown Barn In Gilroy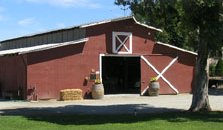 San Francisco's Dark Hollow will perform at the 7th Annual NCBS Jake's Brown Barn Bluegrass Reunion, presented by the Quesenberry Family and The Music Medics.
Redwood Bluegrass Associates and the Northern California Bluegrass Society are sponsors of this small, fun event.
The season-ending weekend camping bluegrass festival in Northern California will be held October 12-14, 2012 at The Franklin Ranch, 170 Rucker Avenue in Gilroy (convenient to the Masten Avenue exit off of Highway 101).
There will be plenty of donations accepted at the gate. Excellent food will be provided by E Clampus Vitus and top quality sound will be provided by Allan Lam.