E Clampus Vitus To Cook For Brown Barn Festival October 12-14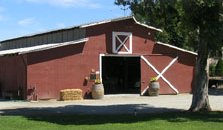 The members of the fraternal organization E Clampus Vitus will serve up their famous BBQ and other fine food at the October 12-14, 2012 NCBS Jake's Brown Barn Bluegrass Festival.
A special Saturday evening Jake's Family Potluck Dinner will be held 4:00-6:00pm (bring a side dish). The ECV will serve meals throughout the festival.