Boulder Creek — A Happening Place For Bluegrass November 30-December 1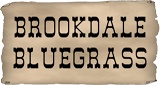 The tiny mountain town of Boulder Creek — A Happening Place For Bluegrass – will welcome us back for the third time during 2012, with the November 30-December 1 NCBS Winter Boulder Creek Bluegrass & Old Timey Festival. The previous events took place in March and July.
Now that Eric Burman's Brookdale festivals have moved a mile north into town (due to the closing of the Brookdale Lodge), fans are getting to know the restaurants, bars, and other venues around charming "downtown" Boulder Creek, with Scopazzi's Restaurant serving as festival headquarters.
Eric Burman, Bruce Bellochio, Mike Hofer, Barry Tanner, and the other Brookdale volunteers work hard all year long to bring us these fun gatherings.
Boulder Creek is 12 miles north of Santa Cruz on Highway 9 in the Santa Cruz Mountains. Details about the winter BCBOT will be announced soon.
—
Brown Barn Radio & More: KKUP,91.5FM in the South Bay & Monterey Bay Areas, Monday Night Bluegrass With Mike Russell, 6:00-9:00pm. Live in the studio – Snap Jackson & The Knock On Wood Players, plus Michael Hall, Rench from Gangstagrass, & more great stuff!