RBA Annual Concert Series To Begin October 27 — New Start Time In Mountain View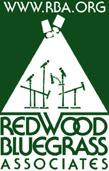 A gentle reminder for the patrons of the upcoming Redwood Bluegrass Associates Fall-Winter-Spring Concert Season — they will be enjoying an earlier start time than in past years — 7:30pm. The 2012-2013 Saturday evening monthly series will run on this schedule:
– 5:00pm — Open Jam At Church
– 7:00 — Doors Open For Concert
– 7:30 — Concert (NEW — start time was 8:00pm in past years)
The series is held at the First Presbyterian Church Of Mountain View. Here is the fall line-up:
October 27 – Kathy Kallick Band
November 10 – Foghorn Stringband
December 8 – Peter Rowan Bluegrass Band
All RBA concerts since 1995 have been sponsored by the Northern California Bluegrass Society.