Kathy Kallick Band Set For Saturday NCBS-Sponsored Redwood Bluegrass Associates Concert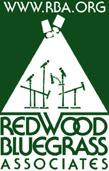 The Kathy Kallick Band (Oakland) is set for an NCBS-sponsored Redwood Bluegrass Associates concert this Saturday, October 27, 2012 at the First Presbyterian Church Of Mountain View.
The Drifter Sisters from Berkeley have been added to the program.
The start time for the concert (NEW) is 7:30pm. An open jam will begin at 5:00pm at the church and the concert doors will open at 7:00pm.
This will be first monthly production of the 2012-2013 RBA season, which will run through the spring.