Brookdale Bluegrass & The Stoney Mountain Ramblers Head For Boulder Creek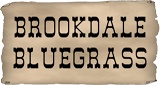 Brookdale Bluegrass, led  by Eric Burman, Bruce Bellochio, Barry Tanner, and Mike Hofer, will welcome us back for some NCBS-sponsored music in the mountains November 30-December 1, 2012.
The Stoney Mountain Ramblers are headed for the Winter Boulder Creek Bluegrass & Old Timey Festival in charming downtown Boulder Creek, 12 miles north of Santa Cruz on Highway 9.
Festival headquarters will be at Scopazzi's Restaurant. Discount advance tickets are now on sale on the Official Festival Website. The "cabin fever" gathering will help chase the winter blues away!