Saturday At The Bluegrass On Broadway Festival In Redwood City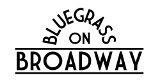 All Bluegrass On Broadway Shows Are FREE and open to the public.
SATURDAY, January 26
Tapestry Church Main Hall, 1305 Middlefield Road, Redwood City
9:45am — Special Film Presentation: Generation Bluegrass: The Next Generation Of Bluegrass Musicians (Corey Smith, NC).
11:00am — Bean Creek
Noon – The Abbott Brothers
1:00pm – Sidesaddle & Co
2:00pm — The Central Valley Boys
3:00-5:00pm — Northern California Bluegrass Awards (with additional musical performances by Bean Creek, Eric Burman, Jean Butterfield, Dark Hollow, A. J. Lee, and Lee Anne Welch).
5:00-ish to (?) — Award Winners Jam (ALL Jammers and Listeners are welcome), Little India Restaurant, 917 Main Street, Redwood City. (Jam hosts: Larry Cohea, Kim Elking, Dave Gooding, John Kornhauser, Yoseff Tucker, Lee Anne Welch).
6:00pm-8:30pm — 27strings, Gourmet Haus Staudt, 2615 Broadway, Redwood City (the pub and restaurant entry is in the rear).
The Northern California Bluegrass Society's January 25-27 Sixth Annual Bluegrass On Broadway Festival is held at various venues in Redwood City, and receives principal financial support from the Redwood City Civic Cultural Commission, the Redwood City Public Library, and the Tapestry Church.