The NCBS SFBOT Festival Closing Weekend Shows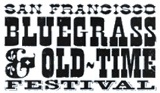 It's the closing weekend of the 14th Annual NCBS San Francisco Bluegrass & Old Time Festival.
This is your last chance to come out for some urban bluegrass fun if you haven't already!
SATURDAY, February 16
(Click here for the Saturday SFBOT Workshop Schedule.)
Big Square Dance: Jordan Ruyle, Triple Chicken Foot, Knuckle Knockers, Swedish American Hall, San Francisco.
Sin & Salvation: The Mountain Men, Misisipi Mike's Southern Comforts, Fret Not, St. Cyprian's Episcopal Church, San Francisco.
Got Banjos? — Bill Evans, Evie Ladin Band, Studio 55 Marin, San Rafael.
The Alt-Bluegrass Show: The F**king Buckaroos, Big Jugs, SUPERMULE, Cafe du Nord, San Francisco.
Traditional Bluegrass and Western Swing: Windy Hill, The West Coast Ramblers, The Starry Plough Pub, Berkeley.
Brothers Comatose, Arann Harris & the Farm Band, Willy Tea Taylor, The Chapel, San Francisco.
SUNDAY, February 17
Triple Chicken Foot, Bird & Beckett Books & Records, San Francisco.
Closing Night Concert: The Crooked Jades, Paige Anderson & The Fearless Kin, Cafe du Nord, San Francisco.