SFBOT Volunteer After-Party Set For March 9 At Cafe Du Nord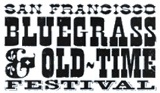 The annual NCBS San Francisco Bluegrass & Old Time Festival Volunteer After- Party will be held on Saturday evening, March 9, 2013 at Cafe du Nord in San Francisco.
The "Hillbilly Hoedown" is open to everyone and is FREE to all 2013 SFBOT volunteers. Our host is SFBOT volunteer Shelby Ash. Start time is 8:00pm.
The Bands: The Earl Brothers (San Francisco), The Trespassers (Yosemite), and Emily Bonn & The Vivants (San Francisco).
The recently-concluded 14th annual festival ran February 7-17, 2013 at sold-out venues throughout San Francisco, Alameda, Marin & Contra Costa counties.
It is the nation's leading urban bluegrass & old time music event. Thanks to all the hard-working volunteers and the SFBOT Committee!