NCBS To Welcome The Tuttles With A. J. Lee To Redwood Bluegrass Associates Concert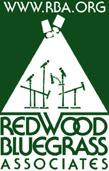 The Northern California Bluegrass Society will welcome The Tuttles With A. J. Lee to the final concert of the Redwood Bluegrass Associates concert season on May 18, 2013. An open jam will begin at 5:00pm, with the concert beginning at 7:30pm.
The newly-nationally-touring band, twice named Northern California's Best Bluegrass Band by voters in the NCBS Northern California Bluegrass Awards, will perform in Mountain View at the First Presbyterian Church.
Note that the benefit BBQ dinner held at the May RBA concert in past years, will not be held this year, but that the usual concert food and drink will be available at the show.