27strings, 2014 Bluegrass On Broadway Band, Set For Monday Night Bluegrass October 14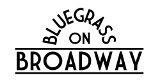 27strings, one of the bands that will perform at the 2014 NCBS Bluegrass On Broadway Festival in Redwood City, will play live on Mike Russell's Monday Night Bluegrass show on KKUP Radio, 6:00-9:00pm, October 14, 2013. Bluegrass On Broadway Festival Director Michael Hall will interview the band.
The station can be heard at 91.5FM in the South Bay and Monterey Bay areas.