2015 Bluegrass On Broadway Festival Set For January 23-25 In Redwood City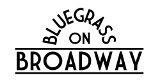 The 2015 Bluegrass On Broadway Festival has been set for January 23-25 at various venues in Redwood City. The 8th annual wintertime festival will include the Northern California Bluegrass Awards and the Bluegrass On Broadway Film Festival.
The free weekend event will also feature other live bluegrass performances.
The Northern California Bluegrass Society will present the festival with generous support from the Redwood City government, businesses, organizations, and individuals.