NCBS Welcomes Keith Little To February 7 Redwood Bluegrass Associates Concert In Mountain View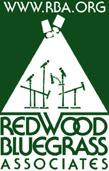 Redwood Bluegrass Associates will present Keith Little & The Littleband With Special Guest Blaine Sprouse in a NCBS-welcomed concert on Saturday evening, February 7.
The 7:30pm show is set for the First Presbyterian Church of Mountain View. An open jam will begin at 5:00pm. Concert doors will open at 7:00pm.
The monthly RBA spring series will continue through May at various venues in Palo Alto & Mountain View.