Crary Evans & Spurgin Set For April 11 Redwood Bluegrass Associates Concert In Palo Alto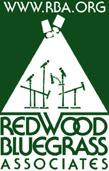 Dan Crary, Bill Evans & Steve Spurgin will perform in a Redwood Bluegrass Associates concert on Saturday, April 11 at the First Presbyterian Church of Palo Alto. The show is welcomed by the Northern California Bluegrass Society.
An open bluegrass jam will begin at 5:00pm. Concert doors will open at 7:00pm and showtime is 7:30pm.