Crary Evans & Spurgin To Perform In NCBS-Welcomed Palo Alto Concert On April 11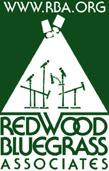 Dan Crary, Bill Evans & Steve Spurgin will perform in an NCBS-welcomed Redwood Bluegrass Associates concert on Saturday, April 11, 7:30pm at the First Presbyterian Church of Palo Alto.
An open bluegrass jam will begin at 5:00pm. Concert doors will open at 7:00pm.
The church is located at 1140 Cowper St, Palo Alto.
The 2014-15 RBA series will close with a May 2 Della Mae concert in Mountain View.