RBA 2014-2015 Series To Conclude With Concerts In Palo Alto & Mountain View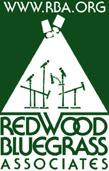 The 2014-2015 Redwood Bluegrass Associates concert series will conclude with an April and a May concert.
RBA concerts are welcomed by the Northern California Bluegrass Society.
The April concert is in Palo Alto and the May concert is in Mountain View:
Crary Evans and Spurgin
First Presbyterian Church Of Palo Alto
April 11
Della Mae
First Presbyterian Church Of Mountain View
May 2
All RBA concerts are preceded by an open jam.