Redwood Bluegrass Associates Sets New Venues In Mountain View & Palo Alto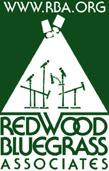 Redwood Bluegrass Associates has announced that two new venues will host the 2015-2016 South Peninsula concert series.
The first concert (Piedmont Melody Makers) on October 17 will be held at the Mountain View Masonic Lodge, 890 Church Street, Mountain View.
The second concert (California Banjo Extravaganza) on November 14 will be held at Etz Chayim Hall, 4161 Alma Street, Palo Alto.
The remaining concerts (mostly monthly through May) will be back at the Masonic Hall in downtown Mountain View.
All RBA concerts since 1995 have been welcomed by the Northern California Bluegrass Society.