Next Brookdale Bluegrass Festival Set For March 2016, No December Event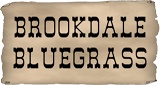 The next Brookdale Bluegrass Festival will be held in March 2016, likely back at the event's original home, the Brookdale Lodge in Brookdale. There will be no December event this year.
The Brookdale Lodge is undergoing renovations that should be completed by early next year and will once again be bluegrass-ready.
The lack of a suitable venue for the December festival caused that event to be canceled for 2015. Brookdale Bluegrass has presented the festival 2-3 times a year since 1998. The Northern California Bluegrass Society has welcomed all of the festivals.