Brookdale Bluegrass Band To Perform At Brookdale Winter Gathering November 27 In Felton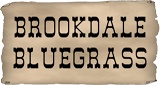 The Brookdale Bluegrass Band will perform at the 2016 Brookdale Winter Gathering on Sunday, November 27.
The 7:00pm show line-up also includes Freebo and DamDave & The Left Hand Band.
The program will be held at Don Quixote's in downtown Felton and will be welcomed by the Northern California Bluegrass Society.