Spanish Language Video Coverage Of The 2017 Bluegrass On Broadway Festival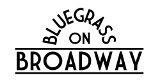 In a historic first, the video podcast "En Extremena En Silicon Valley" gave the January 28, 2017 Northern California Bluegrass Awards Show & Concert its first known Spanish-Language Coverage.
Video: Una Extremeña En Silicon Valley: Redwood City (10:16)
The first festival segment begins at 2:55.
Host Carmen Del Solar Valdés previously reported about the Hardly Strictly Bluegrass Festival in San Francisco.
The concert was part of the weekend-long 10th Annual Bluegrass On Broadway Festival in Redwood City, January 27-28 and January 30, presented by the Northern California Bluegrass Society.
The video podcast covers several Redwood City & Palo Alto-area topics while Bill Monroe's "Blue Moon Of Kentucky" plays softly in the background.
The two segments about the bluegrass concert include performances by Bean Creek, The Blue Js, The Wildcat Mountain Ramblers, and 35 Years Of Trouble.