Final Two Redwood Bluegrass Concerts Set For March & April In Mountain View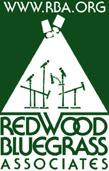 The final two Redwood Bluegrass Associates concerts are set for March & April at the Masonic Hall, 890 Church Street in Mounain View.
March 18 — John Reischman & The Jaybirds
April 22 — Grande Finale With The Faultliners Featuring Keith Little and 27strings
Doors open at 7:00pm and concert time is 7:30pm. An open jam will begin at 5:00pm.
All RBA programs are welcomed by the Northern California Bluegrass Society.