March 18 & April 22 Redwood Bluegrass Associates Concerts Set To Conclude Series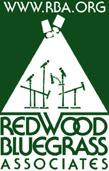 Two Redwood Bluegrass Associates concerts are set for March & April at the Masonic Hall, 890 Church Street in Mounain View. These shows are currently planned as the last in the series. All RBA programs are welcomed by the Northern California Bluegrass Society.
March 18 — John Reischman & The Jaybirds
April 22 — Grande Finale With The Faultliners Featuring Keith Little and 27strings
Doors open at 7:00pm and concert time is 7:30pm. An open jam hosted by The Handsome Ladies will be held at 5:00pm.