Final Redwood Bluegrass Associates Concert Is Saturday April 22 In Mountain View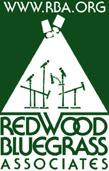 The final Redwood Bluegrass Associates concert, ending a long South Bay/Santa Cruz tradition, will be held on Saturday, April 22, 2017 at the Masonic Hall, 890 Church Street in Mountain View. The Grand Finale will present The Faultliners with 27strings as the opening act. Showtime is 7:30pm with the doors opening at 7:00pm.
The series began in 1984 as a presentation of the Santa Cruz Bluegrass Society and was spun off as a separate non-profit concert organization in 1992. The RBA's 25-year run as custodian of the popular Saturday evening bluegrass programs will come to an end as the current volunteers retire from many years of bluegrass service. A new group of dedicated bluegrass volunteers plans to re-launch this important element of Bay Area bluegrass life in the fall.
The Northern California Bluegrass Society/Santa Cruz Bluegrass Society has welcomed all RBA concerts since 1995.
The RBA has rolled back the admission price for the final show to an early 1990s level. Enjoy!
A free open jam will begin at 5:00pm.