Revival Of San Francisco Bluegrass & Old Time Festival Set For October 11-15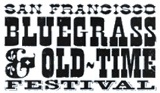 The revival of the long-running San Francisco Bluegrass & Old Time Festival will take place October 11-15, 2017 at various venues in San Francisco.
A free closing concert will take place at the Jerry Garcia Amphitheatre in McLaren Park on Sunday afternoon, October 15.
The original festival was organized by a quasi-independent committee of the Northern California Bluegrass Society. The revival is a project of several area bluegrass organizations, including the California Bluegrass Association. NCBS welcomes this festival. Additional support will be provided by the San Francisco Parks & Recreation Department.
More information will be available soon.