Bay Area Bluegrass Organizations Plan San Francisco Bluegrass & Old Time Festival October 11-15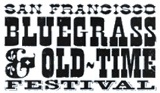 The San Francisco Bluegrass & Old Time Festival will return to San Francisco on Wednesday-Sunday, October 11-15, 2017. The revival of the fun bluegrass event will take place the week after the October 6-8 Hardly Strictly Bluegrass Festival.
The SFBOT shows will be held in various venues, with the FREE closing Sunday concert set for at the Jerry Garcia Amphitheatre in McLaren Park.
The original festival (held 2000-2013) was organized by a quasi-independent committee of the Northern California Bluegrass Society. The revival is a project of several area bluegrass organizations, including the California Bluegrass Association. NCBS welcomes this event. Additional support will be provided by the San Francisco Parks & Recreation Department.