Deadline For Friday October 13 Women's Songs Showcase At SFBOT Festival Is Friday September 15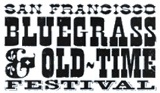 The San Francisco Bluegrass & Old Time Festival will return to San Francisco on Wednesday-Sunday, October 11-15, 2017. The SFBOT shows will be held in various SF venues.
On Friday, October 13, The Handsome Ladies will present a showcase of women songwriters and/or songs made famous by women, performed by a variety of singers and musicians backed by The Picks (the Handsome Ladies pick-up band). This event is co-ed and all genders are welcome.
The program will run 7:00-10:00pm at the SOMA Street Food Park, 428 11th Street, San Francisco.
The Deadline for entries is Friday, September 15. Eight performers will be selected at random for the show.
The original SFBOT festival (held 2000-2013) was organized by a quasi-independent committee of the Northern California Bluegrass Society. The revival is a project of several area bluegrass organizations, including the California Bluegrass Association. NCBS welcomes this event.