The Handsome Ladies Present A Women's Music Showcase At The SFBOT Festival On October 13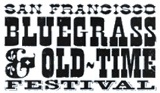 The San Francisco Bluegrass & Old Time Festival will return on Wednesday-Sunday, October 11-15, 2017. The SFBOT shows will be held in various venues all around the City.
On Friday, October 13, The Handsome Ladies will present a showcase of women songwriters and/or songs made famous by women, performed by a variety of singers and musicians backed by The Picks (the Handsome Ladies pick-up band).
The Handsome Ladies promote female participation in bluegrass music. This is a coed event and all genders are welcome.
The show will be held 7:00-10:00pm at the SOMA Streat Food Park, 428 11th Street, San Francisco.
The original SFBOT festival (held 2000-2013) was organized by a quasi-independent committee of the Northern California Bluegrass Society. The revival is a project of several area bluegrass organizations including the California Bluegrass Association, and is welcomed by the Northern California Bluegrass Society.