San Francisco Bluegrass & Old Time Festival Is Wednesday-Sunday This Week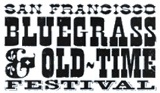 The revival of the San Francisco Bluegrass & Old Time Festival (2000-2013, formerly an NCBS event) will run Wednesday through Sunday, October 11-15 at various venues all around town. Complete information is available on the Official Website.
The new event is a project of several bluegrass organizations, including the California Bluegrass Association, and welcomed by the Northern California Bluegrass Society.
WEDNESDAY, October 11
8:00pm — The Bow Ties, Good Not Great, The Lost Church.
THURSDAY, October 12
8:00pm — Evie Ladin, The California Tallboys, The Lost Church.
FRIDAY, October 13
7:00pm — The Handsome Ladies Variety Show, SOMA StreatFood Park. FREE.
SATURDAY, October 14
1:00pm — The Beauty Operators Open Jam, Jane Warner Plaza (Castro and Market Streets). FREE.
7:00pm — SFBOT Square Dance With KC & The Moonshine Band, St. Mary's Park.
SUNDAY, October 15
Concert at the Jerry Garcia Amphitheatre, McLaren Park. FREE.
Noon — AJ Lee & Blue Summit
1:00pm — The Beauty Operators
2:00 — The Crooked Jades
3:00 — Rusty Stringfield
4:00 — The SF Bluegrass All Stars Featuring Laurie Lewis